Since its conceptualization, Dwarka Expressway has been on the investor's radar in the Delhi-NCR region's real estate market. The connectivity with major commercial hubs of Cyber City, Udhyog Vihar in Gurgaon, and the ease of access to the Delhi Indira Gandhi International Airport gives Dwarka Expressway a lot of potential to become the future growth corridor. Here are the list of the top reasona why you should invest in Dwarka Expressway.
Affordable Pricing
The sectors along Dwarka Expressway are more affordable and fall with the purchasing power of the lower-to-middle class income groups, when compared to the well-established and developed areas of Gurgaon, such as Golf Course Road, and DLF Cyber City.
Dwarka Expressway is a new area, with residential plots of all price ranges available. The cost of plots ranges from Rs 2000 per sq ft to Rs 9000 per sq ft.
You will find a nice-sized apartment at an affordable price in Gurgaon, as the Dwarka expressway is still under construction. The sectors 108, 109, and Sector 111 around the Dwarka Expressway hold tremendous potential for long-term investments.
Commercial Development
Not just residential projects, the commercial sector has also shown a remarkable progress where many leading and trusted builders are introducing their latest projects for retail space, office space, entertainment space, shopping space, and more to enhance the convenience of everything and ensure everything in the area. Roughly, there are more than 25 commercial hubs bustling with office space, restaurants, food court, and other such amenities.
Growth Potential
While analyzing the price trend of multistory residential along Dwarka Expressway, it is observed that the prices have appreciated by more than 40% over a five-year period, from Rs 4750 per sq ft in Apr-Jun 2017 to Rs 6700 per sq ft in Apr-Jun 2022. The high rate of property appreciation is attracting investors to Dwarka Expressway in Gurgaon.
Good Social Infrastructure
The most established sectors on Dwarka Expressway are 108, 109, 110, 111, 112, 113, and they enjoy an established ecosystem. Many reputable institutions, including DPS, Gynanada, Imperial Heritage, Prime Scholar International School, The Shikshiyan, and Euro kids, have established themselves in these areas. Several multispecialty hospitals are found at a driving distance, including Columbia Asia (Palam Vihar) and Nora Solomon Hospital (Sector 108). Many malls are under construction and nearly complete, including the ones in Sectors 109 and 110.
Cleaner Air Quality
As expected, it is not a secret that the air quality is far better in areas close to Dwarka Expressway. Also, due to the Delhi green reserves, lesser traffic and congestion, the quality of life is superior and healthier. With everything that has been mentioned, is there any doubt why Dwarka Expressway is the top destination for living and investments in Delhi (NCR)?
Top Upcoming Projects around Dwarka Expressway
1) Sobha City Gurgaon (Sector 108, Dwarka Expressway, ₹ 1.23 Cr Onwards)
Located in Sector 108 of Gurgaon, Sobha City Gurgaon is the epitome of luxury and affluence. For the best of lifestyles and supremacy in life, Shoba Developers have crafted this amazing facility to give you an exceptional home. This is a revolutionary next-generation developement spanning 39 Acre of land as far as you can see greenery. Sobha City Gurgaon offers a variety of residences, there is a wide range of 2 & 3 BHK homes. The size of houses ranges from 1381 to 2343 sq. ft. with the starting price range of 1.52 Cr. In addition, homes in Sobha City Gurgaon come with wide-hung balconies to let the weather in your home. There are a variety of layouts, plus, contemporary integrated bathrooms with modern fittings. This is an iconic compact city, surrounded with the best pieces of life. It is located between the upcoming largest social & commercial growth in India. Sobha City Gurgaon is situated in Sector-108 in Dwarka Expressway. This is a rapidly growing locality in Gurgaon and NCR.
2) Hero Homes Gurgaon (Sector 104, Dwarka Expressway, ₹ 95.56 Lacs Onwards)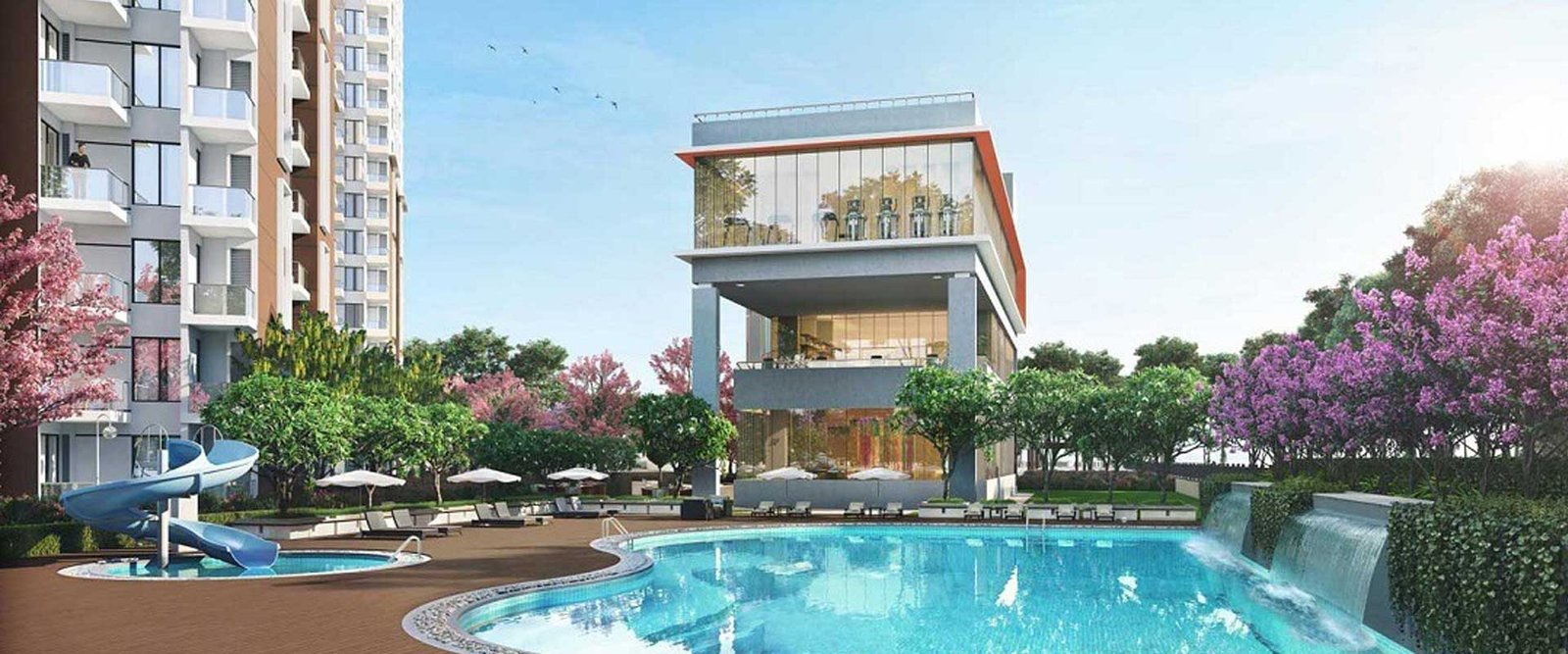 One of the most Branded Business associations in India, Hero Realty Private Limited has an elegant offering to the people of Gurgaon in the form of Hero Homes Sector 104 on Dwarka Expressway. The company has been working diligently to provide state-of-the-art living with the latest innovations and customer-centric approach. At Hero Homes Sector 104 Dwarka Expressway, you can find the best real estate location for easy transportation without lowering the standard of living. With Rising as the Top Real Estate Developers in India, they work to fulfill the people's needs and expectations. Real estate company Hero Homes work on four grounds- Creativity, Fitness, Sustainability, and Communities to give unmatched quality and integrated innovations.
Hero Homes is recognized as one of the latest upcoming projects in Gurgaon. It has become the foremost project in Gurgaon and is surrounded by plenty of greenery of parks that will provide you with a good level of comfort. All residential projects are constructed in compliance with the government regulations and standard guidelines for delivering more trust in the minds of consumers. This project is spread over a large area of greenery land. Hero Homes Building presents a Marvelous sight of Dwarka Expressway and other projects as well.
When you build your home, you must have the two concepts in your mind, the traditional and the modern. It should have all the modern amenities that the people look for and prefer like ATM, schools, colleges, medical facilities, banks, and grocery stores nearby. At Hero Homes Gurgaon, you will get the best quality services with the big rooms and modular kitchen. You get a comfortable life and a prosperous experience due to the high exterior and interior infrastructure. This is the best place for your family to stay.
3) Joyville Gurgaon (Sector 102, Dwarka Expressway, ₹ 82.50 Lacs Onwards)
Shapoorji Pallonji Joyville, Sector 102, a new residential project has been built amidst the most comfortable locations in Gurgaon with world-class residential facilities and high-end design. This residential property will take you to the top level of the comfort zone in the entire NCR region of Delhi, as it provides all contemporary features of standard life to ensure that you have all the reasons to enjoy a relaxed and cosy environment. Shapoorji Pallonji Joyville Gurgaon is an apartment project that comprises of Luxury 2, 3 and 4 BHK Apartments at very affordable rates. You will be glad to know that there are a lot of banks who have shown their interest in financing this realty project. There are several lush green areas that you can enjoy in the vicinity of the property. Shapoorj Group, a brand in the realty sector, has given many residential projects in the past and is currently working on this plot. The best architecture consultant team has helped in terms of facilitating designs and interior decoration. The entire property has allowed a lot of space for providing two side open homes. If you are looking for the best properties in Gurgaon at an affordable price, then you have to come here to book the one that you like.
4) Tata La Vida Gurgaon (Sector 113, Dwarka Expressway, ₹ 1.15 CR Onwards)
When you are living in a city, you know that a home with a garden is a privilege. Imagine living in a place surrounded by nature – that is what Tata La Vida Gurgaon is. It is designed to give you the best of both worlds – you get to be surrounded by greenery in your everyday life. This estate offers children a chance to grow up with fruit orchards, and makes greenery part of everyday life: a tree-canopied skywalk for idyllic morning walks, herb gardens for your summer coolers, and lily ponds and flowering trees to welcome you every time you return. All across a lush 12-acre estate. City life often makes it difficult for neighbors to become more than just acquaintances. The neighborhood is very safe and clean. It has hotels, restaurants, cafes, schools, hospitals, and colleges, etc. in close vicinity.
It is a dream for many people to have a house in the Gurgaon city. And La Vida make it possible with residential properties such as Tata La Vida. Tata La Vida luxurious residential property is specially designed to bring people closer to each other. At the heart of the estate is a terraced green, which can be anything from an amphitheatre for events, to a venue for large garden parties. Outdoor lounges are dotted throughout the landscape: by the reflective pools, in gardens, and at the skywalk. The clubhouse is a veritable melting pot with a healthy mix of leisure spaces and sports courts. Even the lobbies and corridors are designed like art gallery aisles to inspire conversations. It is like a dream destination for many people. If you want to give a life full of comfort and luxuries, then this place is for you.
5) Emaar Palm Heights (Sector 77, Dwarka Expressway, ₹ 1.36 CR Onwards)
Where every family moment is cherished together, Emaar Palm Heights welcomes those looking for luxury of well-designed spaces to live a well-earned life. With three modern landmark towers rising above the horizon, it offers intelligently designed, spacious 3 bedrooms with lounge and utility, integrated modular kitchen and balconies overlooking the stunning beauty of the Aravalli hills, which are all complimented by modern amenities within the expanded community of Palm Hills.